Discover more from HEATED
A newsletter for people who are pissed off about the climate crisis.
Over 83,000 subscribers
They pollute. You pay (literally).
How regular taxpayers are subsidizing the ultra-wealthy's use of climate-polluting private jets.
Just 70 miles south of Pittsburgh in rural Farmington, Pennsylvania, there is a luxury resort called Nemacolin. Best known as the lavish location where ABC filmed The Bachelor during pandemic lockdowns, the 2,000-acre property hosts three hotels, seven eateries, a casino, two spas, and two golf courses. It also has a private airstrip for guests to land their jets.
Nemacolin's private airstrip, however, is not that big. (It's also temporarily out of service). So the resort suggests the nearby Connellsville Airport as another option. It's a "private airport" just 18 miles away, the website says.
But the Connellsville Airport is not actually a private airport. Despite not hosting any commercial passenger flights, it's funded primarily by public dollars. And though the airport does host some public benefit—it's used for mail-carrying flights and agricultural flights, among other things—its major benefit is for ultra-wealthy private jet users looking to avoid the 90-minute drive to Nemacolin from Pittsburgh.
The Connellsville Airport is not an outlier airport. It's one of almost 3,000 general aviation airports across the country that aren't used by commercial airlines; are used heavily by private jet travelers; and are funded primarily by taxpayers, according to a report released Monday by the Institute for Policy Studies (IPS) and Patriotic Millionaires. (Other high-profile general aviation airports favored by the rich include Van Nuys Airport in Los Angeles, Reno-Stead Airport; and Bandon State Airport near the Bandon Dunes Golf Resort in Oregon).
Titled "High-Flyers 2023: How Ultra-Rich Private Jet Travel Costs the Rest of Us and Burns Up Our Planet," the report highlights several ways private jet owners and users not only benefit from taxes paid by the little people, but avoid paying those same taxes themselves. Overall, the report found, private jet travelers pay just 2 percent of the taxes used to fund the Federal Aviation Administration—despite making up 16 percent of all flights. Meanwhile, the report found, commercial fliers pay about 70 percent of the taxes used to fund the FAA. "In effect, commercial passengers subsidize the carbon and convenience of the High Flyers," the report authors said.
HEATED is 100 percent independent and reader-funded climate accountability journalism. Get new posts and support our work by becoming a free or paid subscriber.
Here are some other findings from the report:
Private jet owners are purchasing pre-owned jets as a "preemptive strategy to avoid paying new taxes." In part because Canada passed a 10 percent luxury tax on new aircraft manufactured after 2018, many private jet owners are going for older models—which happen to be less fuel efficient. This is why the report authors recommend implementing a 10 percent sales tax on all pre-owned private aircraft, and a 5 percent tax on new aircraft transactions.

Short flights are even worse for the climate than we thought. "A passenger on a private jet is responsible for approximately 45 times as many emissions as a passenger on a commercial plane flying the same route, and more than 1,100 times the emissions of a train passenger," the report says. That's why it recommends that "Any private flight shorter than 210 miles [should] be subject to a duty and a higher tax rate should be applied to all private flights where the destination is shorter than 100 miles away."

There is a huge disparity in taxes paid by commercial and private jet fliers. Commercial fliers have to pay a 7.5 percent tax on the price of tickets, which are constantly increasing. But private jet travelers only have to pay taxes on the price of jet fuel, which has remained relatively stable. This accounts for much of the disparity—and is the reason the report authors recommend doubling the federal jet fuel tax from $0.219 per gallon to $0.438 per gallon, to discourage short flights and fund sustainability efforts. 
Ultimately, the point of the report is to show yet another way that the world's richest people not only avoid paying for the climate crisis they primarily cause, but shift those costs onto those who are less fortunate and more vulnerable.
"People argue this is a 'private choice,'" Kalena Thomhav, one of the report's co-authors, told HEATED. "Well it's not a private choice when public dollars are involved."
---
Some more news to start your week
The Supreme Court will hear a case that could make it harder to regulate fossil fuel companies. The Supreme Court announced yesterday it will hear a high-stakes case that could overturn a 40-year precedent of government regulation. If the Court's conservative faction decides to overturn Chevron v. Natural Resources Defense Council, it will make it harder for federal agencies to regulate businesses—including fossil fuel companies like Chevron.


The case itself is important, but so is the potential conflict of interest it presents. Justices Samuel Alito and Amy Coney Barrett have ties to oil companies, as reported by The Revolving Door Project. (Alito owns stock in ConocoPhillips and Phillips 66. Coney Barrett's father was a lawyer for Shell, and used to work for the American Petroleum Institute). Those justices aren't recusing themselves because this particular case, Loper Bright Enterprises v. Raimondo, concerns regulation of fishing vessels. But even though the case isn't directly about fossil fuel companies, it will have a big impact on how effectively federal agencies can regulate them in the future.


The Biden administration greenlights yet another Alaska gas project. Weeks after its controversial approval of the Willow project, the Biden administration has approved the Alaska LNG project, which will export billions of dollars worth of natural gas overseas. "Alaska LNG is a carbon bomb 10 times the size of Willow," Lukas Ross, program manager at Friends of the Earth, told Politico. But the climate cost doesn't factor into the race between the U.S. and Russia to become the world's largest natural gas exporter (the U.S. is currently number one). Alaska LNG reportedly already has buyers in Japan and South Korea paying attention.


New York is the first state to pass a law banning gas in new buildings. More fuel for the fire in the gas stove debate—New York is banning the use of fossil fuels in new buildings under seven stories starting in 2026, Politico reports. That makes it the first state to pass a law requiring new buildings to be zero-emissions. (Both California and Washington have set zero-emission goals through building codes).

This is a big deal—namely because the fossil fuel industry is really scared of policies like these. That's why they've pushed at least 22 other state legislatures to pass laws prohibiting municipalities from banning natural gas.

Can't mess with New York, though.
---
Catch of the day: His Excellency Däg Hammarskjold was adopted by reader Sarah in mid-2020, with a clear mandate to bring love and healing to the world.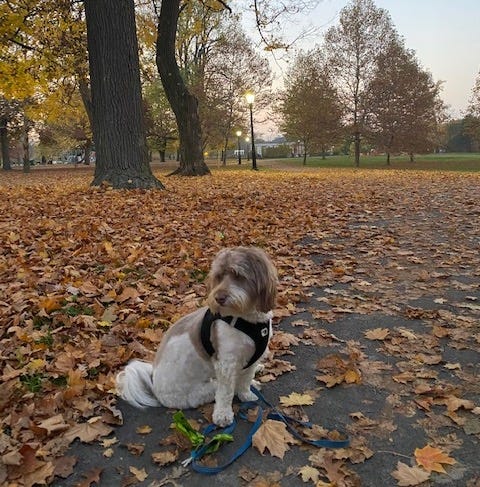 May Däg the dog reign supreme (over our hearts)! 
Want to see your furry (or non-furry!) friend in HEATED? It might take a little while, but we WILL get to yours eventually! Just send a picture and some words to catchoftheday@heated.world.